Staying with the 1100's current basic layout but with modifications to a transverse wishbone front suspension could have easily been handled between the Emery's financially, however Paul could not be persuaded to accept that the 1100's success was solely down to the engine, So while Paul was away converting with Robbie Baird into what he believed would be a Formula one car, George and Peter started work on the design for a front wheel drive car for the new 500 cc formulae.
The choose for a FWD layout was made for the natural inherent directional stability and minimum overall weight and especially as at that time the FIA had stipulated rolling starts. After the success of the 1100 it was to be a whole new start but this time it was going to be the chassis that that would give the edge.
Looking around at the opposition at the time Cooper, JBS, Staride etc. George and Peter were confident that they could better them if an equivalent engine could be secured. In retrospect this was the weak link, (motorcycle racing experience, and buying a Norton twin cam before it was out of the price range.)
George had found some special T45 steel tubing at the Vehicle Research Establishment. The Steering rack, Standard 8 combined shock absorber-wishbones; B.S.A. 3 Wheeler hubs and drive shafts all came from the local car breakers yard. Peter was running the K.T.S. Velocette at the time so he knew approximately what space was needed for the power plant and transmission.
George and Peter again started building in the weekends and along the way learnt to successfully arc weld, thin gauge tubing, though Peter hastened to add, not up to Paul's standard. Again it took the pair the best part of a year by the time a rolling chassis was produced, initially using an old speedway JAP engine with drip feed lubrication. George had bought it cheaply just for testing, coupled it to an Albion close ratio gear box.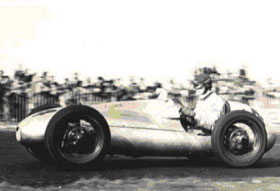 Paul in the 500cc Prototype at Brands Hatch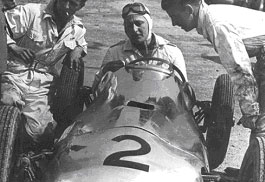 Paul in the 500cc Prototype at Brands Hatch
Peter adds that it did not have a front disc brake as described in one press journal but just a single 8″drum which later proved to be inadequate under racing conditions. This was an unresolved problem that contributed to the major accident when Paul hit the straw bales at Silverstone. It was not possible to fit a larger drum as it encroached on the steering geometry and so there was no way of providing two drums at the time. The combined hard anodized light alloy disc and combined sprocket with a special light alloy caliper came almost 10 years later on the 250cc car in co-operation with Girling.
To save a bit more weight George came up with what was at the time, thought to be a brilliant and novel idea of using bungee chords for the suspension medium.
Testing of the car with no bodywork and a make shift steel fuel tank hung on the back was carried out, up and down the long straight Nine Mile Ride that passed the bungalow at Hawthorn Hill. Considering the engine, that eventually turned into a scrap metal heap, the car was clearly going to be pretty rapid and fulfilled all their expectations. The testing was easier than that of the 1100 as it was easier to hide from the very few irritated public spectators complaining about the noise, The car could be lifted by the two of them, off the road onto a trailer and covered quickly if bothered by the Police and any distant locals most likely thought it was just kids on a motorbike.
Paul finally made an appearance after returning rather sheepishly from Ireland and on seeing what had been achieved so far became quite enthusiastic and offered a twin cylinder JAP Engine that he could get hold of. Sounding a better proposition than the expired speedway JAP and idea of two cylinders for less vibration the offer was jumped at but with in a few days Paul had returned not with an engine but with a new proposal. Having been asked on the previous visit if he would be interested in driving the car in the new up and coming 500 racing formula, Paul believed that there was little chance of George and Peter completing the car in time for the start of the coming season, particularly the bodywork and so if he could take it back to Twickenham, he and Ted Limpus would complete it and he would drive it as a works entry.
After the 1100 experience and not having heard of Ted Limpus or what his part in it was to be, cautiously agreement was given. Peter was at the time attending Twickenham Technical College to complete his qualifications cut short by the war and could keep an eye on things. Paul with the help of Ted Limpus completed a very attractive looking motor car in every respect and it was felt that George and Peter could not have done it in the time, or any better.
So it seemed perhaps that Paul, George and Peter could indeed work together and initially everything was rosy and everyone full of enthusiasm.
Peter was by now working as a Draughtsman at Petter Oil Engines at Staines and running a J2 MG, the first car that he loved since having to sell his Type 35 Bugatti. He had met his wife Jeanne and were married in Fowey Cornwall after living for a time near London Airport at Ashford. After getting National Certificate at Twickenham Technical College he went to work for the ministry of supply at M.L. Aviation and studied at Farnbough Technical College and included Aerodynamics in the syllabusEarly 1952 brought with it the arrival of the new Kieft, driven by a young Stirling Moss. Peter considered the Kieft a serious threat and that its designer knew what he was about. While there was only one Stirling as a driver, Kieft could build a lot of cars and sell them and Peter realized that he still had to do something to sustain his belief that Front Wheel Drive had its place.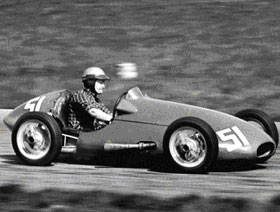 Paul in his 1952 F3 at Brands Hatch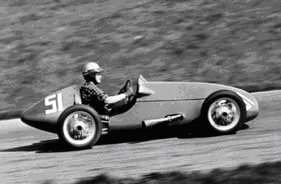 Paul in his 1952 F3 at Brands Hatch
Despite the earlier problems Peter again called to see Paul at his works at Amyand Park Road carrying a roll of drawings for his proposed Mk 2 car. The plans revealed drawings of a light weight, space-frame production design with swing axle rear suspension and very much modified and lightened front Hub assemblies. Peter stipulated that if Paul was interested it must be as a complete package and not just the parts he thought that he liked. Paul would not however consider a swing axle and being deaf to Peters reasoning revealed that a mark 2 version of his own design was already under construction.
Peter going up to see it a few weeks later, stated the new Mk 2 500 developed looked attractive and contained nothing that he would have particularly criticized, other than he thought it to heavy to stay abreast of the competition for long, particularly as the single cam Norton engine was retained, despite Paul having had access to a twin cam. Paul would not take the perceived risk of using it. For the rear end Paul had gone the De-Dion route which Peter perceived as effective, but unnecessarily heavy.
Paul however achieved a considerable number of successes with the new car and his new rear suspension had cured the lifting of the front wheel, but still Peter felt that he was unknowingly masking the potential of front wheel drive, in a class that was made for it.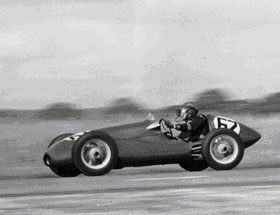 Paul's 1952 Formula 500 at Goodwood
The Emeryson Alta F2/F1
Paul having given up making 500cc F3 cars, instead turned his attentions to building a car for F2 and by 1953 he had began appearing in events in an Alta 4 cylinder engined single seater that he had designed and built himself, a car that Peter considered the best of any of the cars that Paul had built. The chassis was a tubular box frame, coil spring and double wishbone front suspension and finished off with Pauls favoured De Dion rear end located by twin trailing arms on coil springs.
The 2-litre Alta motor drove through a short prop shaft to the gearbox and then through a longer shaft that went beneath the rear facing differential to a reduction box. The attractively bodied car was to appear a little later in that year with an Aston Martin LB6 engine, linered down to 2 litres and driven by Peter Jopp and Alan Brown. The motor was however unreliable and the car reverted later in the year to another 2-litre Alta engine, later enlarged to 2.5 litres. In the 1954 International trophy, the car was run rather unsuccessfully by Colin Chapman's in what was his only race in a F1 car.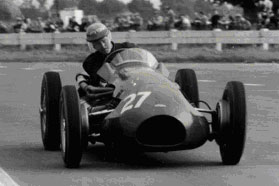 Paul racing the Alta engined Emeryson F1 at Crystal Palace. Front on the car looked very similar to his 500 F3 cars.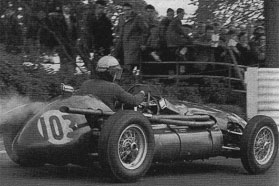 The Emeryson Alta F1 at a Formula Libre race, Mallory Park, 1956. David Hodges photo, AZ of Formula Racing Cars
The 1955 season saw fewer appearances but Paul managed a second in a heat for the London Trophy race at Crystal Palace and finished fifth in the final. Paul raced the car in British Formula 1 events and by 1956 it was proving to be a very competitive car. Paul duelled Stirling Moss for victory at Crystal Palace that year, Moss driving a Maserati 250F. At the British GP, Paul was quicker than and so able to take on several of the privateer Maserati 250Fs but the car suffered engine trouble early in the race and retired.
That was the zenith of the Emeryson Alta and in 1957 the car was little seen as Paul was developing a Jaguar 2.4-litre engine, dry sump and fitted with a fuel injection system, of his own design, made using a CAV diesel injection pump. Paul was seen to compete in the car only the once, at the F1 race at Goodwood, before the car eventually went to Roberta (formally Robert) Cowell to be driven in hill climbs.
Paul reputedly built a second car with a fibreglass body and supercharged 2.5-litre Alta engine for an American customer to use in USAC racing.
Paul then turned to racing Connaught's for a new team formed by Bernie Ecclestone.