Greetings Fellow Formula Juniorists.
Another year is rapidly drawing to a close and it has been a remarkable year starting with the International Series at Pukekohe and Taupo featuring many overseas cars.
In more recent times since the last update, there has been the Tasman Revival Series at Eastern Creek just out of Sydney which the NZFJR was represented by Nigel Russell in the Emeryson Elfin FJ and Roger Herrick in the Taraschi FJ. The Eastern Creek track and facilities were excellent and it was a real change to run at a track with significant level variations and blind corners. It is surprising that New Zealand with all its mountains and hills has mainly flat race tracks.
At Eastern Creek Nigel was quickly on the pace while Roger took a little time to get to grips with the track but in the end the two cars were only separated by a difference in best times of 0.7 second – with advantage to the Emeryson. Most of the cars were rear engined with a mixture of Brabhams, Coopers (including the ex Len May T52), an interesting Lynx Borgwood (#41 below), a Nota and a few Lotus. In the last race the Emeryson broke a rocker shaft but all in all it was a very successful event.
The weekend following Eastern Creek was the HRSCC event at Taupo on the short club track. NZFJR participants were Jim Barclay (Gemini Mk3a), John Rapley (Brabham BT2), John Holmes (Lotus 18), Nigel Russell (FMZ), Rob Williams (Elva), Roger Herrick (Lola Mk2) and Colin Waite (Stanguellini). In addition the Carter's Cooper T76 and Elfin Catalina were also joining the fun. In typical relaxed HRSCC manner no times were taken and we all raced until exhaustion set in on Sunday afternoon. For a real "grass roots" meeting it had some distinguished spectators with Kevin Bartlett from Australia and Adrian Reynard from the UK. Eion Young was also circulating so a journalistic snippet may appear. Unfortunately the FMZ broke a half shaft after a rush engine and gearbox fit on the preceding Thursday and a doomed trip down to Taupo on the Friday when a spinner from the FMZ's left rear wheel parted company going out of Matamata and disappeared forever into the undergrowth. A local Taupo Vintage Car Club member graciously donated a spinner from his Austin Healey to get Nigel racing.
On 12 December Paul Halford's Autosud FJ arrived from the UK and it was immediately under scrutiny by some of the local FJ owners. It is a remarkable and rare car with IRS running through a transaxle made from an inverted Fiat 600 gearbox. It is a tight fit as it has currently been set up for a small driver and some nameless scribe managed to jamb himself in the seat with three people needed to extract him. Paul should have the car out soon as it is in racing condition and just a few things are needed – fitting of seat belts and a roll bar for example. Some photos are attached below – Nigel seems very happy that he can fit in it. Also check out the fantastic pannier tank (one of two) used in period for long distance races.
Neil Tolich's Jocko FJ is now running after some engine work and restoration continues on Michael Sexton's Gemini Mk2. Ian Garmey is completing a refurbishment on his Cooper and we hope to have a few more cars showing up for the January 2009 events at Pukekohe and Taupo.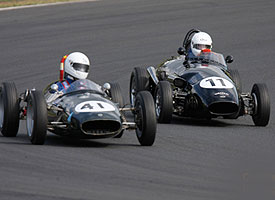 1959 Taraschi FJ (11) of Roger Herrick cornering inside the Lynx Borgward FJ (41)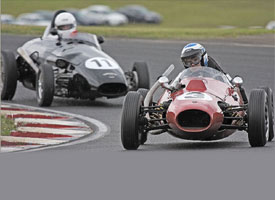 Front wheel drive arrangement of the 1960 Emeryson Elfin MK1 (3) of Nigel Russell evident in this photo. Taraschi FJ (11) behind.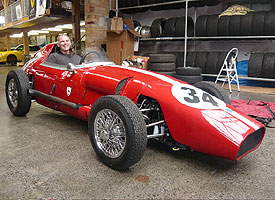 Nigel Russell trying out for size the recently arrived 1960 Autosud FJ (34) acquired from the UK by Paul Halford.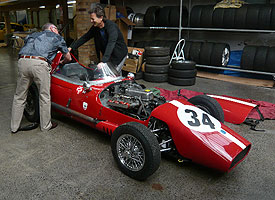 1960 Autosud FJ being checked out by Paul Halford (left) and Mike Sexton (right)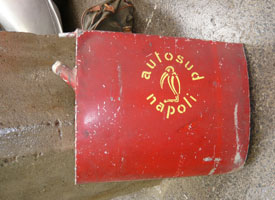 Fantastic pannier tank (one of two) used in period for long distance races.