A fine start to the new season with a good entry running at the Historic Racing Club's Pukekohe Icebreaker Meeting last weekend. Saturday's weather was superbly fine and sunny with Sunday getting off to a damp start before fineing up and drying the track out as the Historics took their places on the grid. We had a practice and an eight-lapper on Saturday and an eight-lap handicap and two scratch races on Sunday.
Points were scored from Saturday's grid start and Sunday's handicap event, which resulted as follows : Taraschi-Fiat, Roger Herrick, 24, 1; Lotus 18 Ford, John Holmes, 22, 2; FMZ-BMC, Nigel Russell; Gemini-Ford, Jim Barclay, 17 equal 3; Cooper T56 BMC, Ian Garmey, 15, 5; Lotus 18 Ford, Craig Abbott; Emeryson-BMC, Peter Benbrook, 12, equal 6; Cooper T76 BMC, Wayne Carter, 5, 8.
Nigel explained to those intending to travel to Australia for the Formula Junior Golden Anniversary trans-Tasman Challenge where we were up to with our sponsorship negotiations and we spent some time discussing shipping arrangements. Everything is looking very positive, with still four months to go. At this stage we have nine cars listed to go to Melbourne, any more starters ?
No decision was reached as to whether the Whittaker's Manfeild event should be included in our "championship" scoring. . . so, unilaterally I will say "yes, do it". But, I am unable to attend so we will need someone to record all FJ entries, and results from the 'feature' and one handicap race.
Next event will be Whittaker's Manfeild on 10-11 November. The Historic Racing and Sports Car Club's Taupo meeting, which is also a NZFJR Championship event, is confirmed for 1 and 2 December. Then it is the big ones at Pukekohe and Taupo (26-27 January and 2-3 February).
Craig Abbott has kindly offered to donate a FJ 50th Anniversary Trophy for annual competition.

Brabham BT16 F2 Rodin Wooten and BBM Mercedes of Ken Williams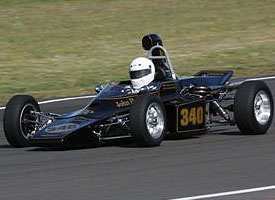 1960 Lotus 18 FJ of John Holmes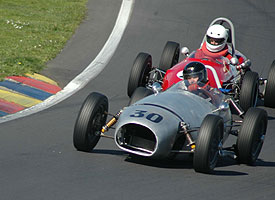 FMZ (BMC) FJ of Nigel Russell and Gemini ford FJ of Jim Barclay