Greetings fellow Formula Juniorists,
Firstly, I trust all the local drivers are getting their entries ready for the HRC Ice Breaker meeting at Pukekohe on 13 and 14 September. Entries can be made at www.motorsportentry.com and details of the event can be found at the HRC site: http://www.grandprix.org.nz/Events.wse. I will be making contact closer to the event so we can arrange a paddock area to be roped off for the FJ cars.
We have arranged for the FJ entrants (plus Wayne and Bruce) to have their pits in bays 6 to 9 of the covered pit area. Ian Garmey has kindly offered to rope it off on the Friday to ensure it is reserved for us.
We can get our tow cars in at the back of the pits and two to three race cars per pit bay. Trailers will probably have to be parked in the trailer park.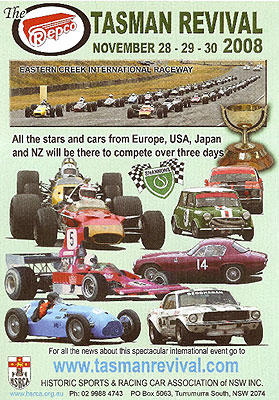 Wayne Rodgers is still recovering from shoulder surgery so the Lynx will not be seen until next year and Ian Garmey has the Cooper T56 stripped right down for a "birthday" so it will be a while before it is seen on the track. John Rapley's Brabham BT2 is undergoing repairs but we hope to see John up this way soon.
David Fenton has his Lotus 18 for sale as does Bruce Carter with the Catalina. We need to get these great cars out on the track so try and persuade anyone you know to acquire them.
Ian Garmey tells me that The New Zealand Formula Junior Register was recently awarded the Colin Chapman Memorial Trophy by the HRSCC for meritorious contribution to the club over the past year. This is no doubt a reflection of the International Formula Junior Series and special thanks should go to the team (especially Nigel) who made this possible.
Michael Sexton's Gemini FJ is now on the way to NZ and some very special information has come to light on the car from the race mechanic who helped build it in 1959 and who now resides in Wanganui. Michael is determined to restore it to period specification and as a result we could have our first Amal carbed car running.
Another front engined FJ has been acquired and is also about to depart the US for our shores and all will be revealed shortly. It is a rare and different car that will be a welcome addition to our grid. Rumour has it that a further front engined FJ is being sought overseas by another Auckland saloon racer. This will make about a dozen front engined cars here and a grid of them will make a great sight.
Nigel has been in contact with the Historic Sports & Racing Car Association of NSW who are running the Tasman Revival meeting on 28 – 30 November 2008 at Eastern Creek. Currently I am taking the Taraschi and Nigel the Emeryson. There are possibly some spaces left for other FJs but we need to know very soon of interest. The deal is attractive with the entry fee of A$1500 covering transportation to and from NZ and within Australia, pits, accommodation and local transportation of drivers to and from the event. HSRCA's note below explains the situation in more detail. If you are interested please let me know ASAP. Click here for more details (PDF file).
Regards
Roger