The TACCOC Spring Classic saw a fine mid-spring day at Pukekohe Raceway. The Historic Formula Ford's only had ten cars entered for this meeting, eight Class I cars, and two Class II cars. Making their season debut's were Bruce McCoy (#13 Lola T342), Michael Clark (#32 Crossle 32F), and Phil Foulkes (#22 Van Diemen RF85).
Practise / qualification saw a spread of 7 seconds across the nine cars that took to the track. Mike Lee (#55 Mondiale M86S) pounded out 11 laps around Puke', setting the pole time of 1:10.526.
Race 1 was over 8-laps, and was eventually won by Foulkes in a rampant 9:25.771, setting fastest lap for the weekend of 1:08.527 in the process, but not before a short battle with Dave Silverton (#43 PRS), who just 0.102 seconds adrift of Foulkes at the line, with Foulkes only taking the lead on the final lap. Mike Lee, whom had led for a period of the race, finished third 2.397 seconds behind Foulkes, but comfortably ahead of another tight grouping of three cars featuring Mike Creswell (#7 Lola T342), Vic Clarke (#911 Palliser WDF3) and Graham Dickie (#191 Begg FM3) whom were spread by a mere 0.873 seconds at the line.
Race 2, again over 8-laps was comfortably won by Silverton, finishing 13.533 seconds up on Michael Clark; himself only 0.201 seconds ahead of Foulkes in third. Vic Clarke and Graham Begg again finished within a blink of each other (0.06 seconds), with Ron Wilkin (#72 Elden PRH10) on their coat-tails, just 0.6-seconds behind them.
Race 3 was once more a Siverton victory, this time by 8.516 seconds. Silverton also set the Class I fastest lap in this race, with a 1:08.826. Foulkes raced home in second with a handy 4.5-second gap to Mike Creswell, who had his best placing of the weekend in third. Creswell however had Michael Clark right on his exhaust pipe, a mere 0.205-secs behind in fourth. Fifth was Mike Lee, whilst Ron Wilkin and Vic Clarke crossed the line in sixth and seventh respectively separated by a scant 0.014-seconds…
The Class leaders have changed around this weekend, with Dave Silverton taking charge in Class I, and Mike Lee moving atop the Class II table.
Championship Standings As at 8 October 2011 / TACCOC Spring Classic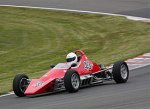 Class I Current Leader: Dave Silverton
Class I Points:
194 Dave Silverton (PRS)
158 Mike Creswell (Lola T342)
123 Graham Dickie (Begg)
122 Ron Wilkin (Elden)
108 Vic Clarke (Palliser)
89 Michael Clarke (Crossle)
79 Gerald Duncan (Cheetah)
75 Tony Cross (Lola T340)
65 Martin Lucas (Lotus)
44 Bruce McCoy (Lola T342)
40 Chris Fraser (Lola T340)
31 Barry Thomas (Royale)
26 Michael Hunter (Hawke)
22 Richard Cullen (Van Diemen)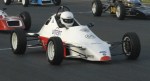 Class II Current Leader: Mike Lee
Class II Points:
135 Mike Lee (Mondiale)
122 Phil Foulkes (Van Diemen)
80 Grant Campbell (Swift)
65 Peter Boel (Swift)
65 Lindsay Porter (Lola T644)
Fastest Laps: (number in () denotes Class number)
Dave Silverton(1) PRS 1:14.167 Icebreaker, Race 1, Hampton Downs, 24/09/11
Dave Silverton (1) PRS 1:08.826 TACCOC Spring Classic, Pukekohe, 08/10/11
Phil Foulkes (2) Van Diemen 1:08.527 TACCOC Spring Classic, Pukekohe, 08/10/11