HRSCC Taupo, 4/5 December 2010
Another great event held on the club circuit beautiful weather good friends and great racing. Also the Vintage Car Club attending again and what I site it's great to see those guys racing. 6 races and practice over two days and off home by 3pm Sunday not a bad effort I recon.
Well the drama started before the racing with Steve Sharpe's tow vehicle breaking down in Hamilton. (Steve recons it's his wife's tow vehicle) anyway he ended up driving his Buckler from Hamilton to Taupo in the pouring rain in the middle of the night. Have you seen a Buckler head lights? Any way Steve's a bit of a legion I recon drove through the night and then raced two cars all weekend and then had to drive the Buckler home. I think he might have slept today.
Anyway 7 sports cars for the Historic grid Steve Sharpe Lotus 7, Bill Stone Mallock Mk6, Brian Service Mallock Mk8, Gavin Bateman Mallock Mk4, Roger Greene Buckler DD1, Me McRae U2 and the Toyota powered Mistral (not rarely historic) Practice went well for all except me with a gearbox locked in second by the end, so my weekend was over. Racing was good and close with only a few minor incidents. Roger lost the hose on his Acue sump after the flag in race 1 which sent him into a spin on the sweeper. A few had trouble keeper in a straight line and by race six, some of those that were flaging were taking bets as to which corner Brian would spin on this time. Hero to zero was the order of the day for him. Still he earned the booby prize at the end of the meeting so not all was lost. COME IN SPINNER was the call of the day. Bill even removed the brand new nose from the Mallock and put the old one back on. Couldn't be sure were people were going he said and I need the new nose for Adrian Raynard and the festival meetings. Now there is something to put some pressure on about when the time comes.
Gavin, Bill and Steve seemed to run pretty flawless all weekend, although I did spot Gavin and Errol doing some brake work in the pits. The Mk4 is running extremely well now. At the end of the meeting it was Steve that topped the points table, Steve and the Lotus are a force to be reckoned with. Well that's about it Next meeting is HRC Taupo 15/16 January. See you there. MERRY XMAS
Regards
Alan Service, Mc Rae U2, Sports Car coordinator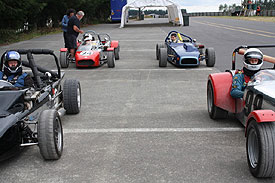 Clockwise from L-Brian service U2 Mk8, Bill Stone U2 Mk6B, Gavin Bateman U2Mk4 and Steve Sharp Lotus 7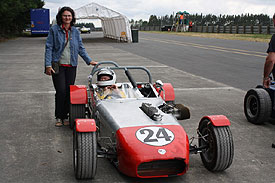 Bill Stone and wife Susan Stone (Nee Mallock)

Bill's U2 after Brian clipped its nose hairs short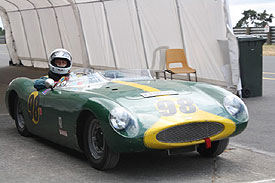 Steve Sharp in the Buckler 90 (Mk 2 De Joux body)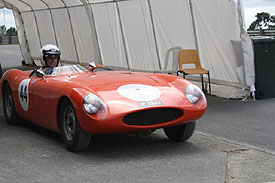 Graeme brayshaw Buckler DD1 with Mk 2 De Joux body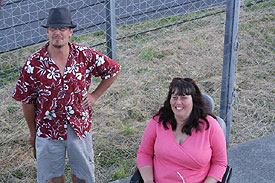 Hopeful future Tiga driver, Steve Sharp and wife Dennis (nee Ganley, Howden's niece)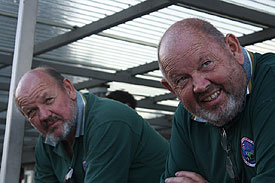 Alan Service (Sports racing car Co-ordinator) and big brother, Brian Service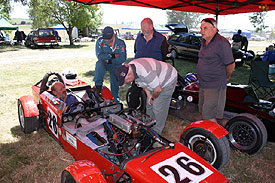 Alan Service in his not so happy McRae U2