Final HRC event of the season saw some brilliant racing and the usual crop of misdemeanors, mostly minor. These demonstrated that a significant proportion of drivers, and in some instances the safety-car drivers themselves, were unaware of correct intervention procedures, which led to fields breaking up instead of bunching up. Rolling starts are however getting better, with front-runners keeping the fields nicely spaced instead of roaring off at a million mph.
We had a turnout of the usual suspects (Geoff Harriman,Lyall Zohs, Dave Heron,Will Oxley, with Grant Martin's Swift being driven by Craig Abbott). Grant himself was driving Craig's Brabham BT 18 in the Historic class, to give it a good sort out and provide some sort of opposition to Rodin Wootton's BT 21.In the event,after changing front springs from 170lb to 300lb, and in spite of an unstable rear-end (the car's, as well as Grant's) the times came down to a winning 63 secs. The instability was later found to be due to both engine-mounts sheared off (pretty, but useless welds), with the rear-end walzing around on the rubber gearbox-bushes.Overnight the welds were made properly.
Craig initially didnt know whether he'd got the DB4 or it had got him, but he was soon sliding it out of Railways and up with the leaders. Big fat grin.
Courtesy of the organisers, and especially of the Sports Car Series, we were running again with sports racers. The cars (and their drivers) are very well-matched to the superhistorics in terms of pace and experience, and we are mindful that when out with them we do not interfere with their championship series.Their front-runners (Noel Woodford–Delta, Robert Hulme–Nemesis, Ian Slight–Juno,Thomas Good–Saker) kept the rolling-starts neat. Noel has obviously been studying at the Scott Dixon school of rolling starts, since he persistently out-dragged everybody off the lights.Will Oxley in the RT1 and Craig Abbott in the DB4 sat with the leaders, with Geoff Harriman in support. Noel won a couple of races, but after a paint-swapping duel with Thomas Good in the third, handed the win to Will Oxley, who had wisely kept out of the scrap ahead.
Robert Hulme unfortunately had his Nemesis aircleaner filled from the inside with bits of valve-seat and cylinder head, which with only 4 points or so in the Series was a disaster. Noel Woodford very sportingly has offered him an engine to keep him in the series.
Will, Grant, and Craig eventually also developed problems. Will's was of the parking kind ("Grant told me to keep the RT1 sliding, so I did"). The DB4 deposited parts of its clutch-release in the undertray, along with all its fluid, and the Brabham locked itself in second gear when heading for another win.Apart from that, an excellent weekend.Thanks, HRC and Sportscars.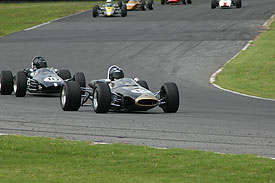 Battle of the Brabhams. Grant (10) BT18 won against Rodins BR21 in the Historic class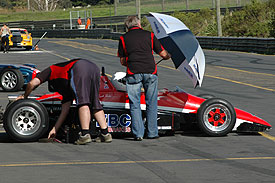 Lyall getting ready to go.Umbrella man is Brian Lawrence, Graeme's brother.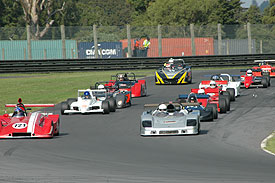 Noel Woodford (721) keeps the field nicely together. He won this one.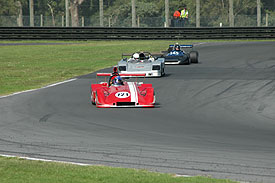 Will Oxley (145) Ralt RT1 waiting for a mistake.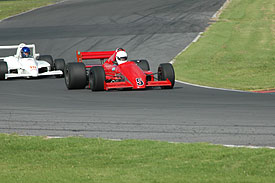 Geoff and Craig private battle. First Geoff…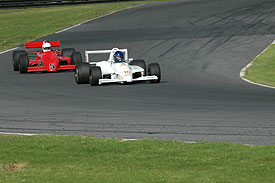 …then Craig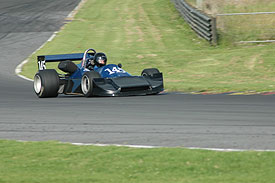 Mistakes made,and Oxley wins.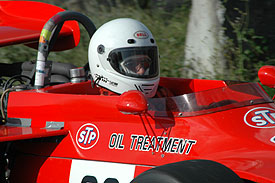 Dave in (on?) the March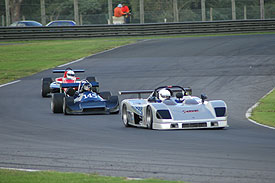 Will Oxley, Ralt RT1 and Lyall, Swift DB4 trail the Saker Sprint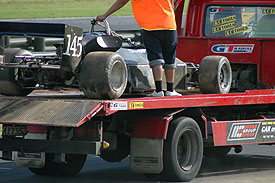 Ralt arrested for offroad parking
Super historic/Sports Racing Car Grid:
5

Geoff Harriman
Ralt RT20
Super Historic
7
Mike Limbrick
Mallock U2
Sports Car
10
Craig Abbott
Swift DB4
Super Historic
11
Lyall Zohs
Swift DB4
Super Historic
22
Anton Aalders
Alders GCR01
Sports Car
26
Alan Service
McRae U2
Sports Car
28
Bob Deeming
Lotus 2-11
Sports Car
29
David Heron
March 722
Super Historic
34
Geoffrey Young
BDV 3
Sports Car
38
Grant
Johnstone
Hulson Delta
Sports Car
44
Donald Shatford
Radge Radge Sports
Sports Car
46
Lloyd Wilson
Fraser Clubman
Sports Car
99
Steve Sharp
Lotus Seven
Sports Car
111
Iain Slight
Juno LMP3
Sports Car
145
Will Oxley
Ralt RT1
Super Historic
371
Thomas Good
Saker Sprint
Sports Car
721
Noel Woodford
Delta Honda W03
Sports Car
747
Robert Hulme
Nemesis Sports
Sports Car