Well, both the big HRC meetings at Pukekohe and Taupo are over.Roll on the next outing. We had 8 cars at Puke and 7 at Taupo-not enough for full grids, but the selection of sports racers that elected to come out with us made for some very exciting racing. The fastest of these cars are very evenly matched to the single-seaters, and that is basically what some of them are. Very sophisticated pushrod suspensions, tunnel-effect sidepods, and 250- 300hp make them single-seaters with covered wheels.
The full circuit at Taupo is much more interesting than Pukekohe, and this led to some very exciting racing between Grant Martin (Swift) , Robert Hulme (Nemesis), Geoff Harriman (Ralt RT 20), Will Oxley (Ralt RT1), and Graham Sims (Reynard).In the first race Grant forgot which way the circuit goes (that's what he says) and lost out to Robert Hulme after a whoopsy or two, much to the crowd's appreciation. As his memory came back, he did a lot better, and won a race or two later on.
In terms of crowd-appeal, judging by the lines of spectators over the pits,these races were second only to the F5000s, with plenty of mild excursions until tyres heated up, and engines at 9000 rpm providing appropriate background. The 2-litre Hart in Grant Martin's Ralt RT1 driven by Oxley could be heard all the way round, even though silenced. The weather of course was perfect, with a cool breeze off the lake, providing you could supply some shade. Drivers without umbrellas really cooked on the dummy-grids.
Dave Heron finally got the March 722 performing the way he wanted it, after persistent starter problems. The starter was eventually dismantled and fitted with a new shaft taken from a spare (Honda) which just happened to be in Grant Martin's toolkit. When shimmed into correct register, all the starter-problems went away. A far more mysterious problem nearly ended his weekend. On race day, water came out of the exhaust. Blown head-gasket?Plugs out, turn over and fountains out of the plug holes.One even hit the roof overhead. Cooling system had not lost water. Where from? No clues.
On drying out the engine, it fired-up and ran perfectly all weekend, with no sign of trouble.We subsequently found that the garages were left unlocked overnight by mistake, and that anyone had access to the cars, but nobody else was affected…, so we leave this in the Great Unsolved Mysteries of Motorsport box.
Assuming everyone now has broadband and can handle the downloads, we attach some pictures which we hope give the flavour of a great weekend of motor sport. Let's hope they act as an incentive to the non-runners to come out to play.Even if you dont regard yourself as a Legend of Motorsport, theres still plenty of time to enter for the March event at Pukekohe.Dates and info have now been sent out by HRC.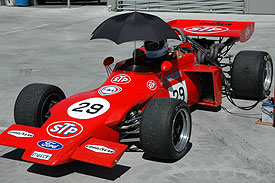 Dave Heron expecting rain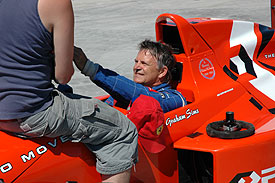 Graham Sims expecting fun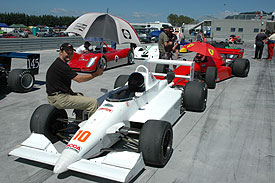 Grant Martin and Geoff Harriman. Will Oxley in second slot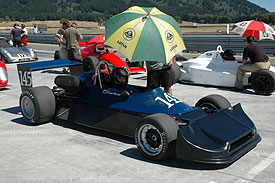 Will Oxley pretending to be Grant Martin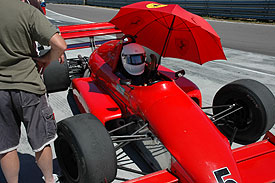 Geoff Harriman and "Ferrari" RT20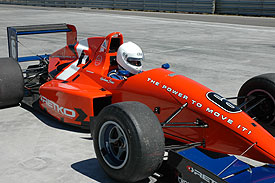 Graham Sims ready to go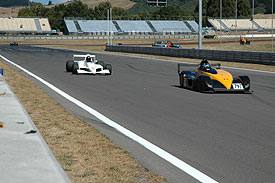 Robert Hulme leads in the Nemesis. GM and WO fighting back.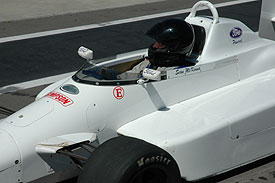 GM gets it right and starts winning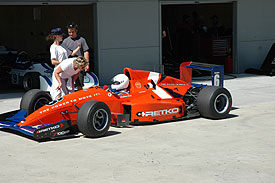 GS describes his personal battles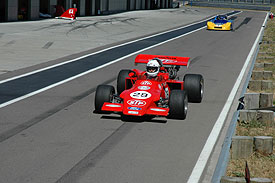 DH into pits after having a real go with the March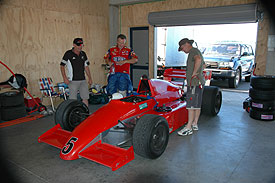 GH shows how he got all those marbles on the LH front.